Here is a newsletter-style 2-column with sidebar theme for WordPress which allows some control over which categories are displayed in each column. I included the WordPress Theme Toolkit by Ozh for user-friendliness. This theme is a modified version of Corporate Slave, by dreamLogic .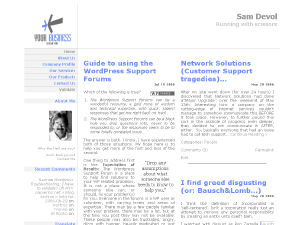 For style and functionality I have included some plugins: HotDates by Supriyadi Slamet Widodo, Sociable by Peter Harkins, Get Recent Comments by Krischan Jodies, Live Comment Preview by Jeff Minard and Iacovos Constantinou, Optimal Title by Aaron Schaefer and Related Posts by By Alexander Malov & Mike Lu.
The plugins above need to be installed for this theme to function as intended. If HotDates and/or Live Comment Preview is not installed, the theme should still behave, but without the others something will break…

Instructions for installation and configuration:
Download the latest version from the link below.
Open up the .zip file.
Drop/copy the plugins folder and themes folder to your site's wp-content/ directory.
Activate the newly installed plugins.
Go into your sites Admin area, go to Presentation:Themes and select Corporate Slave.
Go directly to Presentation:Corporate Slave Options and enter the category numbers you want to appear in each column.
Click on the Store Options button and you should be set!
A note about category numbers and selection: This theme uses the query_posts() function using ONLY the 'cat=' Category Parameter, e.g.; you could enter anything like: 12 or 7 or 7,12,2,3,4 or -3 or 12,7,-3 etc., etc. into each categories option at Presentation:Corporate Slave Options.
A note about the top-post feature in v0.95: I've had several requests for a static top post feature and here it is. To make use of this just open up the toppost.php file in a text editor and change the variable at the top: $toppost_id = '18'; to reflect the post # you want displayed there. If you want to remove this feature just change line 2 from the index.php: to:
or you can delete it altogether. In 0.95 just enter the category number you want to pull the toppost from. It will always display the last post in that category.
*Added in 0.91: Missing calls to optional footer and sidebar text. (Thanks Angela Harms)
*Fixed in 0.92: In Opera, hr line goes across both columns. Thanks Martin!
*Fixed in 0.93: Archive display was whacky. Also cleaned up some IE styles (more 'compatible').
*Fixed in 0.94: More style fixes, when widgets are added, they should look much more 'integrated' now.
*Added in 0.94: A double-wide static top-post. Edit toppost.php and change $toppost_id = '18'; to reflect the post # you want to appear there.
*Changes in 0.95: Toppost now based on a category selected in theme options, displays latest post in that category. Embedded a few plugins (Optimal Title, Email Immunizer). Took out Sociable plugin (choose your own ;'). Built-in Slimbox (lightweight/fast lightbox effect).
Here is the latest version:
Corporate Slave Theme for WordPress, version 0.95.
And you can see a demo here.
As always, feedback is welcome!